THIRUVANANTHAPURAM, INDIA – A stream of bare-chested religious devotees step gingerly through metal detectors at the Sree Padmanabhaswamy temple in southern India as armed commandos with AK-47's guard perhaps one of the world's greatest treasures to surface in recent times. For months now, following a court order to pry open subterranean vaults sealed for centuries at the heart of sleepy Thiruvananthapuram, the capital of balmy Kerala state, shell-shocked experts have been coming to terms with the vast hidden hoard, estimated at one trillion Indian rupees, or $22 billion. In a nation where 500 million people live in poverty, the find has been a revelation, stoking debate over how to best safeguard and use this newly discovered wealth at a time of financial uncertainty and modernization across India.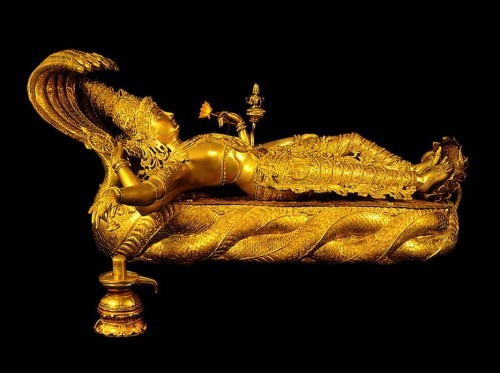 Put in a broader context, the wealthy temple in the lush, spice-growing but relatively undeveloped Kerala, where infrastructure is patchy and per capita income lags behind the richer northern Indian states, could salvage the rickety finances of the country, lift millions out of poverty and even help wipe out a quarter of India's overall fiscal deficit.
The treasure, a long accumulation of religious offerings to the Hindu deity Vishnu, includes a four-foot high gold idol studded with emeralds, gold and silver ornaments and sacks of diamonds.
Local legend has held that vast riches had been interred in the walls and vaults of the temple by the Maharajahs of Travancore and their subjects over many years.
70 year old retired police officer TP Sundara Rajan went to the Supreme Court asking that the state take over control of the temple, saying the current temple trust were incapable of protecting the wealth inside. The court ordered an inspection of the temple vaults..
"It's been a real shocker," said Manish Arora, dressed in a white cotton mundu and walking bare-foot outside the seven-storey 16th century pyramidal temple complex. "Nobody thought there'd be money like that here. "They should use it for public welfare, for development." Calls have also been made to display the treasures in a newly built museum that could prove a major tourism draw.
But in a deeply religious country, where even photographic documentation of the treasure is barred to avoid defiling the site, any decision to remove the treasure from the temple vaults could prove highly controversial. Some politicians, however, have suggested categorizing the treasure and selling off less historically important items like diamonds or gold bars, then investing the proceeds as part of a trust to generate steady, recurring income for social causes. "Of course money should not be kept idle," said O. Rajagopal, a member of the Hindu nationalist opposition group, the Bharatiya Janata Party (BJP).
Sree Padmanabhaswamy Temple became the richest Hindu temple in India as well as the world. As of August 2011, after completing the asset valuation of the five secret cellars of the temple the value of the treasure soars to more than Rs. 100,000 crore, that's around US$22.3 billion, without even calculating the antique value of the objects.
Before this valuation, Sree Tirumala Venkateswara Temple, in Tirupati, Andhra Pradesh, was regarded as the richest temple in India. Other wealthy temples in India are the Golden Temple in Amritsar, Punjab, and Shirdi Sai Baba Temple in Maharashtra (Note: The word "crore" ( Cr) is derived from the Prakrit word krodi , denoting "ten million" in the Indian numbering system, which has separate terms for all powers of ten from 10.0 up to 10.19).
List of Ancient Treasure Found in Trivandrum Temple
A list of assets found in Sree Padmanabhaswamy Temple include a Golden idol of  Vishnu worth Rs. 500 Crore, studded with precious stones, thousands of ancient gold coins, golden elephant statues, thousands of ancient gold ornaments, Swarna Dhanus, Swarna Pathakam, Golden Umbrellas, Precious Belgium Diamonds, Indraneelam, Emeralds, Rubies, and a famous golden crown known as Kulashekharaperumal Crown (Kkireedam in Malayalam), Golden Coconut Shells, golden ropes and utensils etc. It should be noted that the worth of these antique gold and diamonds are just an estimation only, when the original prices of these ancients assets are calculated the original treasure worth will surely be doubled.
The treasure included antique gold ornaments, diamonds and other precious stones, golden crown, golden bow, golden vessels, and other precious stones were found in the secret chambers of Sree Padmanabhaswamy Temple in Thiruvananthapuram, Kerala. The seven member panel appointed by the Supreme Court of India who were drawing up a list of assets of the ancient temple were mesmerized by the sight of the huge treasure trove in front of them. Source said that the original value of the treasure found in the Sree Ananda Padmanabhaswamy Temple Trivandrum will be much more than Rs 90,000 Crore when calculating the price taking account of  the antiquity of the treasure found.
Some of the list of gold inventory found in the temple include golden crowns, 17 kg of gold coins dating back to the East India Company period, gold in the shape of rice trinkets weighing one tonne, an 18 ft long golden necklace weighing 2.5 kg, gold ropes, a sack full of diamonds, thousands of pieces of antique jewellery studded with diamonds and emeralds, and golden vessels.
Around 90,000 Crore worth of  treasure (Nidhi) has been found in the secret cellars of the famous Kerala Temple dedicated to Vishnu – Sree Padmanabhaswamy Temple in Trivandrum (Thiruvananthapuram). The seven member panel appointed by the Supreme Court of India, has been preparing the list of valuables found in the cellars of Sri Padmanabhaswami Temple. The temple has six secret cellars (Nilavara – a place to keep assets safe) from Cellar A to Cellar F. Opening of each of these chambers is revealing an incredible treasure trove with precious diamonds, golden ornaments, emeralds, jewelleries, rare antique silver and brass platters and golden idols. An estimation of above 90,000 Crore treasure was valued at the completion of the sixth day of valuing the assets.
Golden idol of Mahavishnu worth Rs. 500 Crore
The main treasure found on the sixth day was a one foot (12 angulams) high golden idol of  Mahavishnu and a 30 kg golden 'anki'. This golden idol of  Vishnu is believed to be the replica of the 'utsava vigraham' used in the temple. The golden idol of Padmanabhaswamy studded with more than 1000 previous stones is valued to around Rs. 500 Crore. Another golden idol of  Sree Krishna was also found which weighs around 5 kg.
Several golden coins were also unearthed, which are believed to have been issued during the reign of Krishnadeva Rayar in the 16th century AD. Numerous golden ornaments which were used to adorn the main deity were also found in the Vault marked A. Ornaments studded with emeralds were also found. Numerous golden human figurines weighing 1 kg, golden bangles, golden rope, are other interesting treasures found in the Vishnu Temple.
Another interesting find was two coconut shells made of pure gold. One of this golden coconut shell was filled with rare antique stones including emeralds and rubies. Cellar B is the remaining one secret vault which is yet to be inventoried. It is said that this cellar hasn't been opened for more than 100 years.
So who does the much talked-about treasure of Sree Padmanabhaswamy Temple belong to? Many argue such wealth now belongs to the people of India, and indeed all such wealth could be used for public good.
Thanks to : www.artknowledgenews.com