Pixie Dust on Goody Goody Land?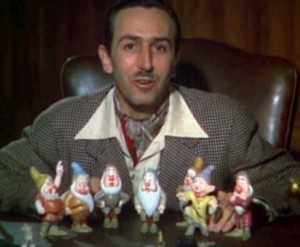 Walt Disney was a man known as an escapist who made escapism his life's work. He not only exploited fantasy, but enjoyed it with the millions who paid to see his films. He recognized early on that in the world of the fairy-tale, especially the cartoon fairy-tale, anything is possible. Animals can act, talk and behave like human beings; witches can fly, little boys can climb beanstalks and discover giants and castles in the clouds. Of course, these stories are ages old, Cinderella, Snow White, and Sleeping Beauty. Disney always added his own imaginative touches, to the point you read the old versions and your child is likely to say, 'that's wrong'! He invented many other characters, from Mickey Mouse and Donald Duck onwards.
Disney had a burning ambition to succeed, but money was of secondary importance: his associates constantly complained about his reckless disregard for the enormous cost of the projects he initiated. His first venture ended in bankruptcy, but he persisted. His career is a remarkable example of courage, determination, and vision.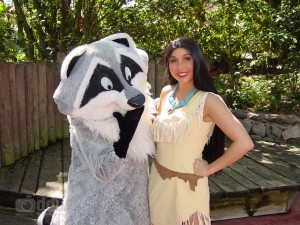 The Disney vision of fairy-tale love stories, benevolent nature, and classic American virtues such as hard work have remained unchanged from the beginning.  However, in Disney films stereotypical characters , predictable plots and subtle racist elements have all led to criticism…
With Pocahontas(1995),  the corporation set the goal of producing a movie that would be accepted by all cultures.  Pocahontas tells the love story between an English captain and a young Native American woman.  To assure an unbiased fair cultural portrayal of Native Americans, Disney sought counsel from decendents of Powhatan Indians as well as assistance from historians and the leaders of American Indian organizations.  To recreate the atmosphere behind the Pocahontas story writers, directors, animators, and composers made multiple visits to Jamestown, Virginia, the site of the original Jamestown colony.  Despite these efforts, there have been continuing criticisms regarding the actual extent to which Disney listened to the Powhatans, as well as criticisms regarding the historical distortions contained in the film.   This exhaustive style of research seems to characterise all film genres today, but in aiming to please everyone, do you end up pleasing no one?
Disneyland, of all his fantasies, built like a vast film set, but cast as reality, a mixture of old-fashioned adventures and the latest technological dream. It was such a huge success that the Disney Organization has since built the bigger, better Walt Disney World in Florida, and then later, in Tokyo, Hong Kong and Paris. The concept, now so familiar, was very much his own: it is the private world of a genius.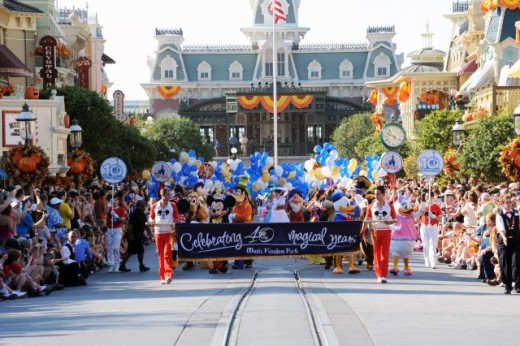 Main Street is America 1890, with its penny arcades and silent films, horse-drawn and motor carriages: Adventureland is jungle and pirates; Frontierland is the Old West with its saloons, forts, Tom Sawyer's Island, log rafts and canoes; Fantasyland is Cinderella's Castle, Peter Pan and Snow White; Tomorrowland is all action, Space Mountain, submarines and Mission to Mars. Disney called it Magic Kingdom and invited visitors to forget the present, suspend all belief, lower their defences, and enjoy themselves whatever their age, and statistics reveal half of all adults visit without children.
That Disney had a good deal of the schoolboy in him is clearly shown by one of the most popular features – the submarines which cross a lake and disappear into a cavern. To the people inside them, they appear to have plunged into the abyss of the ocean. They do not really submerge: they run on rails through the lake, and only the porthole windows along their sides are under water. The interior of the vessels convincingly rattle with the noise of engines, sirens and loudspeaker commands from the captain. Bubbles appear outside the windows and rush upward until the required 'depth' is reached. The submarine then glides slowly through an underwater seascape. There is a forest of corals, glowing in their natural colours. Shoals of iridescent fish swim among them or sport around huge octopuses that wave their arms. The light fades from the water for a while, and monstrous fish of the deep peer in at the portholes. A giant clam opens and shuts its enormous valves. Soon you pass the wreck of a pirate ship: skeletons of pirates sit on its spars, and a treasure chest, half-open as in the storybooks, spills gold, jewels, and pieces of eight. Then, as the submarine turns for home, an enormous white serpent undulates through the water towards the observation windows. What fun Disney must have had when he devised this preposterous but hugely enjoyable fantasy. This is but one example of how technology is employed to hoodwink the senses.
In 1982, the Disney Organization completed another project he had initiated before his death. The Florida complex, alongside the Magic Kingdom, is known as EPCOT (Experimental Prototype Community of Tomorrow). Disney envisaged a city of the future, a model community. His successors decided that his concept – like so many others – wasn't practical enough and turned it into what is essentially a showcase for America's big corporations, a science and technology amusement arcade. Spaceship Earth, housed within the famous geosphere, has a planetarium, in which the vastness of space is the theme. Visitors board a 'time machine' to see how communications have developed from the age of cave-dwellers to machines of the future.
World Showcase is a collective of Pavilions that wrap around the World Showcase Lagoon. The idea grew from Disney's original vision of an International Street in Disneyland, California, but was not then realized. Inside the Pavilions, may be found shops, attractions and restaurants that represent the culture and cuisine of eleven countries, Mexico, Norway, China, Germany, Italy, United States, Japan, Morocco, France, United Kingdom and Canada. Pavilions for Russia, Switzerland, Spain, Venezuela, United Arab Emirates, and Israel have never made it past the planning phase to date.
Typical that when we visited, the authentic British pub was full of British tourists drinking bitter and eating pies for lunch! Where else can you do that in Florida?
Finally, a mention of the TV journalist Alan Whicker, who visited Walt Disney World, aired on British Television in September 1971, the show was entitled 'Pixie Dust on Goody Goody Land' (Within Whickers World) and possibly part of the reason Disney prefer their own publicity..
With thanks to: www.disneyworld.disney.go.com