A Fish Caught in Time: The Search for the Coelacanth by Samantha Weinberg
Rating:





This is the modern history of the discovery of living Coelacanths (pronounced 'seel-uh-kanths'). Since there have been exciting developments since 1998, it serves as a background text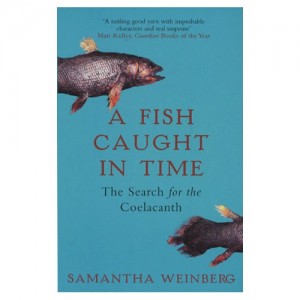 well worth reading especially for the human side of the story, the personalities involved, also a record of the petty exploitation and destruction these unique creatures have suffered since their rediscovery. Samantha Weinberg details the circumstances that led up to their protected status.
A few days before Christmas in 1938, a Coelacanth was caught at the mouth of the Chalumna River on the east coast of South Africa. The fish was caught by Captain Goosen and his crew, who had no idea of the significance of their find. They thought the fish was unusual enough to alert the curator of the local museum in the small South African town of East London, Marjorie Courtenay-Latimer.
She almost didn't make the trek down to the docks because it was hot and she was busy. It was fortunate she did. She saw the strange blue fish and, as she said later, declared it was "the most beautiful fish I had ever seen…" She bought the animal and proceeded to take it back with her. After an argument with a cabbie who didn't want to take the smelly carcass in his taxi, Courtenay-Latimer got it to the museum. However, once she was there she had no refrigeration facilities in which to keep such a large specimen and neither the local cold-storage warehouse nor the mortuary would cooperate. Turning to a local taxidermist, she had the animal and its viscera preserved as best she could. Then she wrote to J L B Smith telling him the story and including a sketch of the unusual animal. Smith was a South African chemistry professor who had taught himself ichthyology..