Back when plans were submitted for a building to commemorate the Millennium, which of course materialized as the Millennium Dome, I thought a full sized replica of Crystal Palace would be ideal. This story caught my attention:
"Plans for a replica of the original Crystal Palace are being worked on by architects and developers. The original building was built by Sir Joseph Paxton in Hyde Park for the Great Exhibition of 1851, 160 years ago.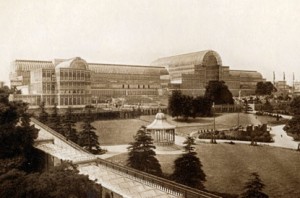 After being moved to a location in Sydenham, now known as Crystal Palace Park, it was destroyed by fire in 1936. The plans for a new building, estimated to cost £220million, incorporate galleries, a snow slope, music auditorium, leisure facilities and a hotel.
They have been drawn up by the New Crystal Palace company, a consortium of local businessmen. It expects to submit the plans to Bromley council "in the next six to eight months". Company spokesman Patrick Goff said: "We want to put the Crystal Palace back and give the park a heart again. Our plan could be entirely funded through the commercial elements, with no money needed from the public purse."
However, a rival scheme for the park has been put forward by the Mayor's London Development Agency. It is proposing the construction of 180 private houses in the park, despite local objections. The new homes would be built on the site of a caravan park. The £67.5million scheme also includes student accommodation, landscaping and various improvements to the park itself as well as a new regional sports centre that includes an indoor swimming pool. Plans were approved after Public Inquiry in December 2010..
Other buildings and structures proposed include a museum, park maintenance facilities, community facility, information kiosk, greenhouses, retail kiosks, cafés, lavatories, classrooms and children's nursery. The plans also include a treetop walk and water features, but Bromley council's chief planner said the agency's plans did not accord with existing plans for the area, which is within the Crystal Palace Park Conservation area.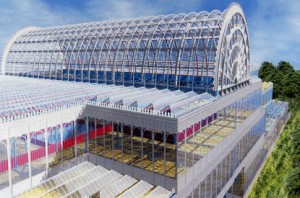 A spokesman for the agency said: "While there have been some calls to rebuild the palace, it is by no means the priority for the majority of people."
The architect, Joseph Paxton was born in Bedfordshire on 3 August 1803 into a farming family. He had a number of gardening jobs until in 1823 he began working at Chiswick Gardens which was leased by the Horticultural Society from the Duke of Devonshire. Impressed with his abilities, in 1826, the duke appointed Paxton head gardener at Chatsworth House, the Devonshire family's large country house in Derbyshire. At Chatsworth, Paxton designed gardens, fountains, a model village and an arboretum. He also built a conservatory – known as the Great Conservatory – and a lily house, specially designed for a giant lily with a design based on the leaves of the plant. He also married the Chatsworth housekeeper's niece, Sarah Bown.
Fame came with the 1851 Great Exhibition. All of the 245 plans for the main Exhibition Hall in Hyde Park had been examined and rejected. Paxton was visiting London at the time and heard about these difficulties. Within a few days he delivered a design – a vastly magnified version of his lily house at Chatsworth. It was cheap, and relatively simple to erect and remove. Its novelty was its revolutionary, modular, prefabricated design and the extensive use of glass. It took 2,000 men eight months to build the 'Crystal Palace', which was more than 500m long (1,848 feet) and 140m (408 feet) wide.
Despite widespread cynicism amongst press and public, when the Great Exhibition opened in May 1851 it was an enormous success.
It was Paxton's idea to move the palace to Sydenham and in June 1854 it was re-opened by Queen Victoria.  After its re-location to Sydenham the Crystal Palace was much enlarged, with three transepts instead of one, and used twice the amount of glass as in Hyde Park in 1851. The building complex  included two huge water towers supplying fountains with more than 11,000 water jets rising into the air. The area became the world's first theme park, attracting two million visitors a year and hosting 20 FA Cup finals. Sadly a series of disasters, culminating in the fire of 1936, totally destroyed the building .
With thanks to:
The London Evening Standard 7/2/08
Palace of the People: The Crystal Palace at Sydenham 1854-1936 by Jan Piggott
http://www.crystalpalacecampaign.org/