Sexual abuse, paedophilia and the priesthood
BBC News reports Pope Francis has asked for forgiveness for the "evil" damage to children caused by sexual abusers in the clergy.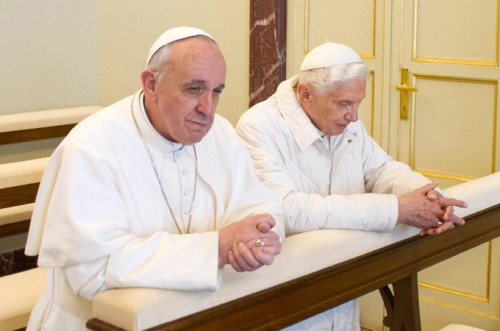 Pope Francis and his predecessor
The Pope said the sexual abuse was "moral damage carried out by men of the Church", and that 'sanctions' would be imposed. The statement, made in a meeting with a child rights group, is described as his strongest on the issue so far. The facts show the Church does not see that, evil as paedophilia is, the lack-lustre response to it is so damaging. Last month, Pope Francis strongly defended the Roman Catholic Church's record on tackling sexual abuse by priests, following UN criticism. The Vatican had refused a request from the UN's Committee on the Rights of the Child (CRC) for data on abuse, on the grounds that it only released such information if requested to do so by another country as part of legal proceedings. Surely each member country gives the UN such a mandate?