Rating:





Lincoln the Unknown, by Dale Carnegie
What do you really know about Abraham Lincoln? Before reading this book, first published way back in 1932, my knowledge could have been summed up like this: He was the president of the American Civil War. He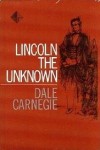 was the president who made a famous speech after Gettysburg and emancipated the slaves. He was hated enough by some, that he was assassinated. Today he is revered as a protector of American democracy, and has a famous memorial in Washington D.C. Carnegie wrote this book after realizing he too, only knew the bare facts. There is so much more..