The Luhimba Project   (UK Registered Charity 1084849)   
LUHIMBA is a remote village in rural southern Tanzania, East Africa. It currently has a population of 3,500 villagers who live in scattered clusters of dwellings. Their houses are of two main types – mud huts with grass roofs, or constructions of home-produced bricks with corrugated sheet roofing.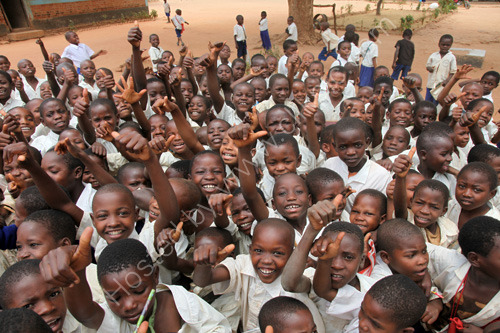 There is no mains electricity or piped water to the village.  The only electricity is provided by generators and solar panels on a few of the houses and community buildings. Otherwise lighting is by oil lamps. The villagers fetch water from pumps. Untreated surface water was freely drunk, with consequent high rates of water borne disease particularly amongst children.
Life expectancy in the village is about 50 years, men living longer. The villagers earn their living from the land. There are no vehicles apart from some bicycles and there is only one small shop which sells basics, such as soap.
30 years ago, in 1984, a project was started by the late Michael Carey of Wrington, near Bristol, on behalf of the Institute of Mechanical Engineers. The project was set up to improve the standard of living and quality of life of the villagers in a sustainable way. Luhimba was selected by the Britain Tanzania Society on the basis of the quality of the local leadership and the fact that Luhimba was in the fertile Ruvuma region which was just being opened up to the rest of Tanzania by the Songea – Dar es Salaam road.
Michael and his wife Angela visited the village to ascertain what were the perceived needs and to find out how to help them to get what they wanted and not what Britain thought that they ought to have. In those days Luhimba was very deprived and there was extreme poverty.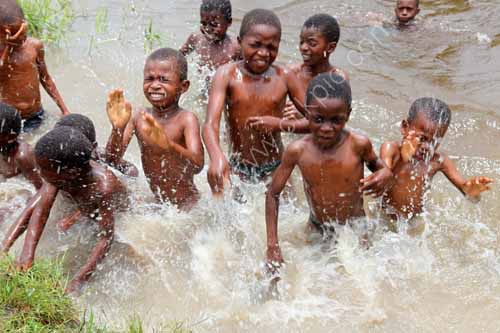 Subsequent help concentrated on Education, Health, Clean Water, and improving Agriculture and Engineering.
Following an initial grant of £12,000 things started to improve, and with the help of other fund-raising slowly increasing. From those early days the approach has been asking the villagers what they want and work with them to prioritise their needs. Not once have we imposed preconceived ideas on them. In this way every aspect of the project is within their own culture and understanding.
In 1993 Comic Relief  agreed to support the project over a five year period, ending on 5 April 1998. During this time the project moved forward in leaps and bounds. Since then the project has solely relied on the donations and generous sponsorship of individuals and organisations spread over a wide area of the UK.
Michael Carey passed away in December 2008, leaving a legacy which has touched the lives of so many people in this remote corner of Africa and will continue to do so for generations to come.
The Luhimba Project, which became a registered charity in 2002, is currently run by a small group of volunteers in North Somerset, led by former headteacher Paul Temple in partnership with Dr Strato Paul Mosha who lives in Dar es Salaam and oversees each aspect of the project.
The Project's achievements 1984 to the present
Installing 25 hand water wells and a ring well, refurbishing the old village primary school, building two more primary schools, building a new secondary school, forming links with UK schools, providing solar power for the secondary school, sponsoring students to go on to further and higher education, setting up a student gap year scheme, building a village dispensary and recently adding a twenty bed ward to it, training the village doctor to treat trachoma (a sight-threatening disease), providing hand-operated tricycles for the disabled, providing solar powered hearing aids and other medical aids, building a new village office, setting up a small business loan scheme, providing training for the agricultural officer, building a care home, setting up an animal project to provide pigs, goats, cows and poultry for families, and installing a major irrigation scheme for the farming community (no apologies for the long sentence!).
All the above has only been possible because of the generosity of our loyal supporters, friends, sponsors and donors.
The Luhimba Project: The Future
The villagers of Luhimba now want to focus on health and education as their priorities. As far as community health is concerned, it would be valuable for the community to expand the limited treatment the medical officer can offer at present to include dental care and treatment for eyesight problems. There is now no main sponsor but other avenues to raise funds are being explored, together with the possibility of registering the project as a separate charity.
The Luhimba Project: and finally…
The Luhimba Project has been a remarkable success. The project leaders attribute this to the fact that they have worked in partnership with the villagers. They are friends and there is total mutual trust and understanding. Commendably, it has always been the policy of the project leaders to deduct nothing for out-of-pocket expenses, and administration.
Paul has been involved in the project to support Luhimba for the past fourteen years, and during that time he has seen the village move forward in so many ways. The project has always focused on education, health, clean water and agriculture, and has achieved wonderful results in all these areas. For example, a new dispensary with a qualified medical officer was opened last year. The villagers have called it The Angela Carey Dispensary, and all the children born there seem to be christened Michael or Angela! When the project was started the villagers shared a water hole with the cattle. Now there are nineteen water pumps in Luhimba.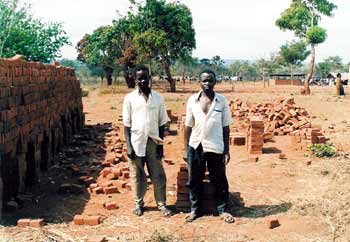 Success
The outstanding success of the Luhimba Project is largely due to the fact that every aspect of the scheme has been at the request of the villagers. At no time have the organisers imposed their own preconceived ideas. Everything that has been done has been within the culture, tradition and understanding of the villagers. It has been a true partnership, and consequently personal friendship and mutual understanding have built up over the years.
Culture shock
Paul recalls his first visit to Luhimba – "It was a true culture shock. I found myself in this delightful mud-hutted village, with no electricity, running water, vehicles or shops. I was given such a wonderful welcome, and received hospitality which I had never experienced before. I now return every year and live with the friends I have made in the village."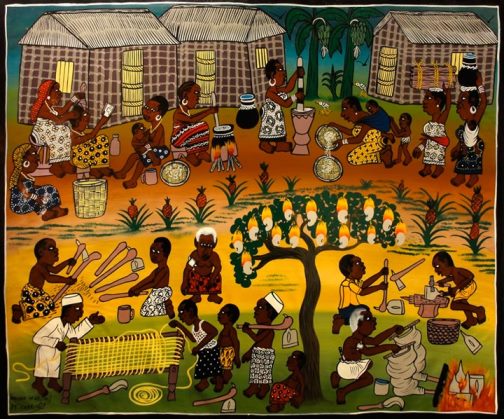 Education
As a teacher, Paul has concentrated his work on the village primary school. In the early stages the school was a very run-down building with mud floors, very few desks, minimal resources , all of which were reflected in the low morale of the teaching staff. The first job was to create a much better working environment, and this has largely been accomplished. Floors have been concreted, walls plastered, and there are desks for all children to sit on. The project has also succeeded in building a second primary school in the outlying area of Likarangilo. But there is still a desperate need for teaching resources in both schools.
Commitment
During his visit to Luhimba earlier this year Paul was accompanied by Helen Sweet. Helen is at university in Bristol and joined the project last year. She is planning to spend some time working in Tanzania when she qualifies as a teacher next year. Both Paul and Helen are committed to helping the two primary schools in Luhimba and, with the support of North Somerset Education Authority, have set up a sponsorship scheme amongst schools in the area.
Participation
The participating schools have pledged £50 per year for three years to help provide teaching resources for the Luhimba Schools, and in return receive the benefits of a real, ready-made international multicultural link, including direct communication with the Luhimba children, sets of artefacts, displays, updates on progress – in fact a real insight into the way of life in a remote African village. Paul explains, "It is a wonderful opportunity for our children to be involved in such a project, and to know that their efforts will have an immediate impact on the lives of children in a developing country. Every penny raised goes to the schools. It has always been the policy of the project leaders not to take anything out of the funds for administration, travel etc. All these expenses are met from our own pockets."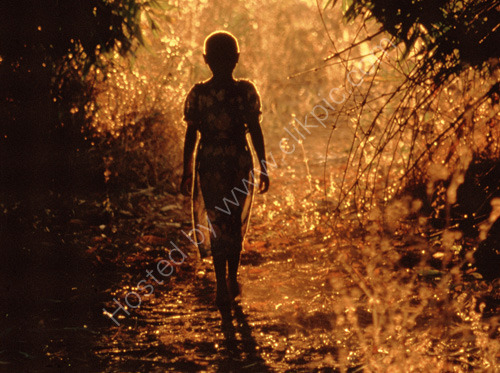 Give a man a fish and you feed him for a day. Teach a man to fish and you feed him for a lifetime (well-known Chinese Proverb).
Thanks to: Mr Paul Temple,
 www.luhimbaproject.org.uk  Paul Temple Photography
Painting by Mohamed Charinda (Dreamtime Gallery & Studio)