The World of Yesterday (1942) by Stefan Zweig and Anthea Bell (translator)
Guest Review by Mr Ralph Blumenau
Rating:





In the Introduction to his book Stefan Zweig rightly says that no generation in recent times had undergone such a series of cataclysms, each breaking bridges with an earlier period, as had his own.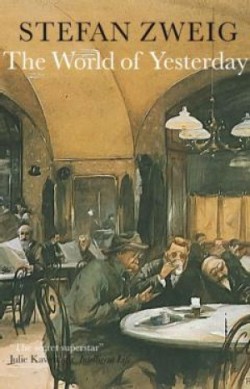 He had lived not only in one world of yesterday, but in several, and it is these worlds he sets out to describe. A truthful and passionate account of the advent of the horror that tore apart European culture, "The World of Yesterday" gives us insight into the history of a world brutally destroyed, written by a master at the height of his literary talent.
He was born, a Jew, in 1881 into a cosmopolitan and tolerant Vienna and into a world of utter political and economic security, confident in steady progress in society and in science. It knew the douceur de vivre (except that unmarried young men and especially young women led a sexual life which could find an outlet only in prostitution), and where culture – no longer under the patronage of the Court, but under that of the Jewish bourgeoisie – was more honoured throughout society than was wealth. The culture of the older generation was challenged by the avant-garde, with which Zweig and his fellow-students, even while still schoolboys in a stultifying educational system, were knowledgeably, passionately and actively engaged. Hugo von Hoffmansthal and Rilke were their lodestars. The universities were little better: Zweig was only a nominal student at the universities of Vienna and Berlin: his real intellectual life lay elsewhere. Already at the age of 19 he had the first of several articles accepted for the feuilleton section of the prestigious Neue Freie Presse in Vienna (of whose editor, Theodore Herzl, he gives a wonderful account). In Berlin he was looking for (and found) a wider circle – socially and intellectually – than in the somewhat inbred bourgeois and mainly Jewish milieu in which he had moved in Vienna. He drank in influences of every kind, from the sophisticated to the louche, exposing himself to `real life' as opposed to the purely literal and to some extent derivative life he had led so far..