Travels with Herodotus (2004) by Ryszard Kapuscinski (English translation:2007)
Rating:





Kapuscinski was a great journalist and travel writer, and in part of this, his last book he presents a few fragments, a minuscule part of his wide experiences. These fragments become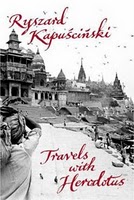 shorter and shorter while his reflections about Herodotus become longer and longer, so much so that the greater part of the work is about the Greek historian. The book is beautifully translated from the Polish by Klara Glowczewska.
Born in 1932, Kapuscinski grew up in a Poland which had become Communist after the war. He became a journalist, and round about 1955 he was sent abroad, in the first place to Italy. The first set piece comes early in the book: his first time out of Poland, his first travel by air, and the stunning impression, as his aircraft descended at night to Rome airport, of a city sparkling with lights and such a contrast with the very low-wattage country from which he had come.
Then he is sent to India: another memorable description of dense crowds sleeping on the platforms of Calcutta railway station.
"A man is pushing his way through the huddled multitudes. He jostles an old woman, her bowl drops from her hands, and rice scatters onto the platform, into the mud, amidst garbage. In that split second, children throw themselves down, dive between the legs of those still standing, dig around in the muck trying to find the grains of rice. The old woman stands there empty-handed, another man shoves her. The old woman, the children, the train station, everything- soaked through by the unending torrents of a tropical downpour.."(p29).