What an artist creates and how he goes about it , in what choice of subject or medium, is not only his own business but his alone to judge.
Max Beckmann (1884- 1950) rejected abstract or non-representational painting, unlike so many of his contemporaries, and instead, he took up and advanced the tradition of figurative painting. 'I hardly need to abstract things, for each object is unreal enough already, so unreal that I can only make it real by means of painting.'
Max Beckmann greatly admired Cézanne, but also Van Gogh, Blake, Rembrandt, Rubens and the Northern European artists of the late Middle Ages and early Renaissance such as Bosch, or Bruegel. His style and method of composition are also rooted in the imagery of medieval stained glass.
Encompassing portraiture, landscape, still life, mythology and the fantastic, his work created a very personal, authentic version of modernism. Beckmann re-invented the triptych, and utilized this compositional form of medieval painting as a looking glass of contemporary humanity.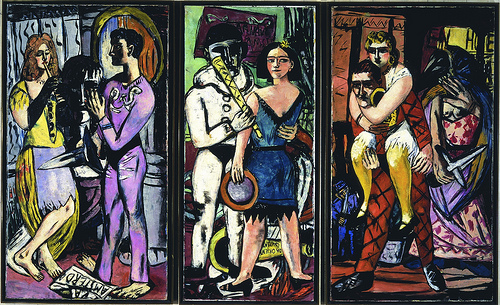 From his beginnings as an artist until after World War II, Beckmann's work reflects an era of radical change in both art and history. Many of Max Beckmann's paintings express the agonies of Europe in the first half of the 20th century. Some of his imagery refers to the decadent glamour of the Weimar Republic's cabaret culture, but from the 1930s on, his works often contain mythologized references to the brutalities of the Nazis. Persecuted by the Nazis, he was forced to flee his homeland and work in relative isolation while the war turned Europe upside down. Beyond these immediate concerns, his subjects and symbols assume a larger meaning, voicing universal themes of terror, redemption, and the mysteries of eternity and fate.
Beckmann said "Height, width and depth are the three phenomena which I must transfer into one plane to form the abstract surface of the picture, and thus to protect myself from the infinity of space.. If the canvas is filled only with a two-dimensional conception of space we shall have applied art, or ornament. Certainly this may give us pleasure, though I myself find it boring as it does not give me enough visual sensation. To transform three into two dimensions is for me an experience full of magic, in which I glimpse for a moment that fourth dimension which my whole being is seeking."
John Marin (1870- 1953) had times when he felt a touch of bitterness. While the public and the critics applauded his fluid watercolours, his oils were so assiduously ignored that Marin used to refer to his unsold oil canvases as his "Dark Room Collection." Ever since his death in 1953 admirers have been trying to focus more light on the dark room. In many ways, it took us 40 years to find Marin's voice.
In his early work, John Marin was fascinated by force, energy, bustle and movement, and this obsession dictated a fresh technique.
The smooth surface of his watercolours began to crumple into fragments, as if each scene he painted had jumped inside a prism. Everything was recognizable, but everything was also slightly out of place, tipped or distorted to give a sense of motion. Of his watercolours, Marin insisted: "Painting is like golf; the fewer the strokes I take, the better the picture." But for all its spontaneity and frugality, the watercolour sometimes seemed too delicate.
It could catch a breeze or a mist; a storm demanded something more robust. The oils to which Marin turned retained the same fluidity, but they often achieved a deeper intensity. Marin spent his first summer in Maine in 1914 and almost immediately, the rocky coast there became one of his favourite subjects. Over the years, he became intimately familiar with the many moods of the sea and sky, and developed an uncanny ability to capture the spirit of the place.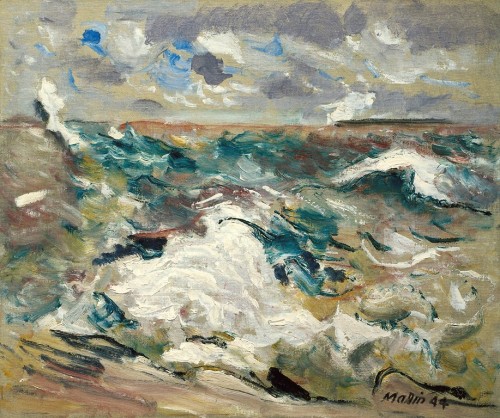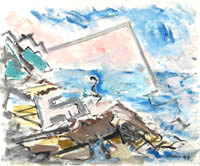 "It seems to me," said Marin. "the true artist must perforce go from time to time to the elemental big forms—sky, sea, mountain, plain—to sort of re-true himself up, to recharge the battery. But to express these, you have to love these, to be a part of these in sympathy.. God be praised that I have yet the vision to see these things."
Kyffin Williams (1918- 2006) was a painter of powerful landscapes and portraits. He described himself as "an obsessive, depressive diabetic epileptic, who's apprehensive, selfish, intolerant and ruthless."
Williams was born in Llangefni, North Wales, in May 1918. Williams' career as an artist would probably never have happened had he not been diagnosed with epilepsy as a young man. A doctor advised him, "As you are, in fact, abnormal, I think it would be a good idea if you took up art".
"My greatest fortune was that I was ordered to take up art for the good of my health" Kyffin wrote in his autobiography, 'Across the Straits'. "This presumed that I was not a born artist and therefore was able to paint naturally, in an uncomplicated manner, free from the pressure of the man who knows he is an artist and has to live up to it."
It was only later, when he found himself thrown out of his lodgings in St John's Wood, that Williams realised that this was his vocation: "Suddenly the idea of being without somewhere to paint seemed awful, and that was when I realised that I really was a painter."
To pay the rent he took up teaching at Highgate School, but often played truant to paint on Hampstead Heath. "The headmaster was very nice about it. He said, 'By the way, you didn't turn up for lesson, you know it is awfully difficult if you don't'"
Williams carved a reputation for himself with his idiosyncratic use of the palette knife, and found that there was a popular appetite for his work which typically drew inspiration from the Welsh landscape, coast and farmlands.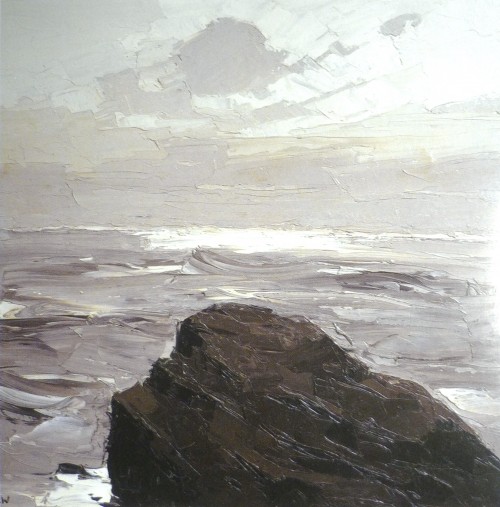 "I think I am the first painter that people in Wales have been able to relate to," he said. "In the past, ministers, miners and farmers couldn't buy paintings, but thanks to getting a better education, their sons became professional people, and a whole class grew up with a love of their roots".
"Coming from the same sort of background, I was painting the sort of places that they wanted to be reminded of, so that was terribly lucky."
Kyffin mourned the disappearance of traditional skills, such as draughtsmanship, from the curricula of arts colleges: "It's quite mad. If you can't draw, you can't sell anything. Students aren't encouraged to sell their work. If you go to any college the basic thing they should teach someone is how to earn a living, but it's not so in art schools. Drawing is absolutely basic to it".
"I'm extremely old-fashioned in that I love what I paint. That's how you communicate your love for a subject. If you love things and look at them and say 'that's beautiful', you must put it down, but you can't put it down unless you can draw".
"So what it really means is that these young artists don't love anything, except themselves. They love what goes on in their minds, and they don't react to anything that is beautiful."
Reference :  Art Appreciation Made Simple by John P Sedgewick