I Put a Spell on You: The Autobiography of Nina Simone
Eunice Kathleen Waymon (February 21, 1933 – April 21, 2003), better known by her stage name Nina Simone, but also known as 'The High Priestess of Soul' was an American singer, songwriter, pianist, arranger, and civil rights activist widely associated with jazz music. She composed over 500 songs and recorded over 40 albums. Simone aspired to become a classical pianist while working in a broad range of styles including classical, jazz, blues, soul, folk, R&B, gospel, and pop.
Born the sixth child of a preacher's family in Tryon, North Carolina, Nina's prodigious musical talent prompted her ambition to become the first black concert pianist, but the realities of poverty and racial prejudice forced her to redirect her ambitions. Her musical path changed direction after she was turned down for full scholarship at a prestigious music institute, the Curtis Institute of Philadelphia. She then began playing in The Midtown Bar & Grill in Atlantic City to fund her continuing musical education, after realising a pupil was earning more than she was by teaching piano, but the bar required her to sing as well. She was approached for a recording by Bethlehem Records, and her rendition of "I Loves You Porgy" became a smash hit in the United States in 1958. Over the length of her career, Simone recorded more than forty albums, mostly between 1958, when she made her debut with Little Girl Blue, and 1974…
Her distinctive and original style arose from a fusion of gospel and pop songs with classical music, in particular with influences from her first inspiration, classical composer Bach, and accompanied with her expressive jazz-like singing in her characteristic low tenor. She injected as much of her classical background into her music as possible to give it more depth and quality, as she felt that pop music was inferior to it. Her intuitive grasp on the audience-performer relationship was gained from a unique background of playing piano accompaniment for church revivals and sermons regularly from the early age of six years. Many persons who remember her live performances felt she addressed them personally, in other words, she connected with people, and this can be felt through her music.
After twenty years of performing, she became involved in the civil rights movement and later the black power movement. Her songs are considered by some as anthems of those movements, and their evolution reflects the growing hopelessness that America's racial problems would be solved.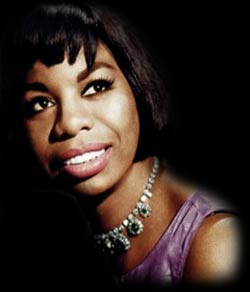 Nina Simone wrote "Mississippi Goddam" after the bombing of a Baptist church in Alabama killed four children, and after Medgar Evers was assassinated in Mississippi. This song, often sung in civil rights contexts, was not often played on radio.
Simone's music was highly influential in the fight for equal rights in the U.S.A. On  Silk and Soul (1967), she recorded Billy Taylor's "I Wish I Knew How It Would Feel to Be Free" and "Turning Point". The album, Nuff Said (1968), contains live recordings from the Westbury Music Fair, April 7, 1968, three days after the murder of Martin Luther King, Jr. She dedicated the whole performance to him and sang "Why? (The King Of Love Is Dead)", a song written by her bass player, Gene Taylor, directly after the news of King's death had reached them.
Personal favourites include 'My baby just cares for me', 'Do I move you?' 'Nobody knows when you're down and out, 'I got it bad (and that ain't good)','Just in time', 'The house of the rising sun', 'Love me or Leave me', "Ne Me Quitte Pas" (a rendition of the 1959 Jacques Brel song) and 'The Look of Love'.
In a 1969 interview with Phyl Garland, Nina Simone said:
"There's no other purpose, so far as I'm concerned, for us except to reflect the times, the situations around us and the things we're able to say through our art, the things that millions of people can't say. I think that's the function of an artist and, of course, those of us who are lucky leave a legacy so that when we're dead, we also live on. That's people like Billie Holiday and I hope that I will be that lucky, but meanwhile, the function, so far as I'm concerned, is to reflect the times, whatever that might be".
Nina Simone is often classified as a jazz singer, but this is what she had to say in 1997 (in an interview with Brantley Bardin):
"To most white people, jazz means black and jazz means dirt and that's not what I play. I play black classical music. That's why I don't like the term "jazz," and Duke Ellington didn't like it either — it's a term that's simply used to identify black people."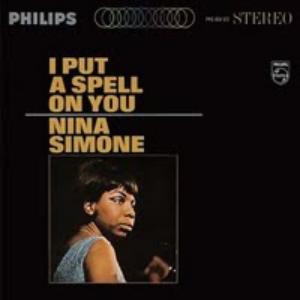 I Put A Spell On You (album)
The documentary Nina Simone: La Legende (The Legend) was made in the 1990s by French filmmakers, based on her autobiography I Put A Spell On You. It features live footage from different periods of her career, interviews with friends and family, various interviews with Simone then living in the Netherlands, and while on a trip to her birthplace. A portion of footage from The Legend was taken from an earlier 26-minute biographical documentary by Peter Rodis, released in 1969 and entitled simply, Nina.
Her filmed 1976 performance at the Montreux Jazz Festival (Live At Montreux) is available courtesy of Eagle Rock Entertainment, and it is screened annually in New York City at an event called, "The Rise and Fall of Nina Simone: Montreux, 1976,", which is curated by Tom Blunt.
Plans for a Nina Simone biographical film were released at the end of 2005, to be based on Simone's autobiography I Put a Spell on You (1992) and to focus on her relationship in later life with her assistant, Clifton Henderson, who died in 2006. TV writer Cynthia Mort  is working on the script, and singer Mary J. Blige will play the lead role. The film's release is scheduled for 2012.
With thanks to: http://en.wikipedia.org/Nina Simone
http://www.youtube.com/ninasimone