Gold at Wolf's Crag: An Inquiry into the Treasure of Fast Castle  (1971)  by Fred Douglas
Rating:





Henry Bright (1814-1873)  Fast Castle from the Sea
Fast Castle is an isolated ruin on a rugged coast south of Edinburgh, north of Berwick. It might merit little obvious attention, but a closer look through the eyes of Fred Douglas was very rewarding. It seems the cache of gold (if it exists) is no nearer to being uncovered, but the trawl through the Scottish historical sources revealed much of interest.. particularly in providing an explanation into the murkier behaviour of the paranoid king James VI (later James I of England), and the most likely source of the gold, that is, Spain. Individuals who were put to death as a result of these events included the Gowrie brothers , David Graham of Fintry, Judge Graham of Halyards, and the gruesome posthumous trial of Robert Logan, following the 'examination' of his notary, Sprott, revealed the extent of his central role in the affair. The link with the so-called attempt on James's life at Gowrie House, Perth, in 1600, provides the best explanation I have read on this strange episode. The conspiracy as uncovered then, seems genuine enough, but whether the Spanish Gold, or other treasures, remain to be discovered is still a moot point.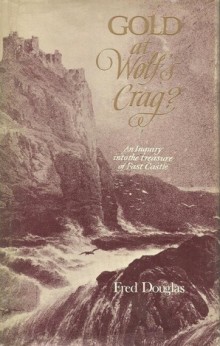 This is the only full length book by Fred Douglas, embodying most of his extensive research undertaken after his retirement as an Edinburgh bookseller. Sadly he died before updating the work, on 14th May 1971.
Print: Dramatic view of the isolated Berwickshire castle. Originally produced by Henry Bright for John Parker Lawson's "Scotland Delineated in a Series of Views" (London 1847-1854).