The Man Who Made Vermeers: Unvarnishing the Legend of Master Forger Han Van Meegeren by Jonathan Lopez
Han van Meegeren (1889-1947) painted in the style of Johannes Vermeer, but his works also include forgeries of Frans Hals, Pieter de Hooch and Gerard ter Borch. In 1937 the director of Museum Boijmans, Dirk Hannema, purchased 'The Supper at Emmaus' for 540,000 guilders (approximately $4million today). There was great interest in the painting, which some experts believed to be an early masterpiece by Vermeer. The Rijksmuseum in Amsterdam even offered Vermeer's 'The Love Letter' in exchange for the painting, but Hannema rejected the offer. Museum Boijmans exhibited the work as one of the highlights of its collection and art experts praised the work's high quality…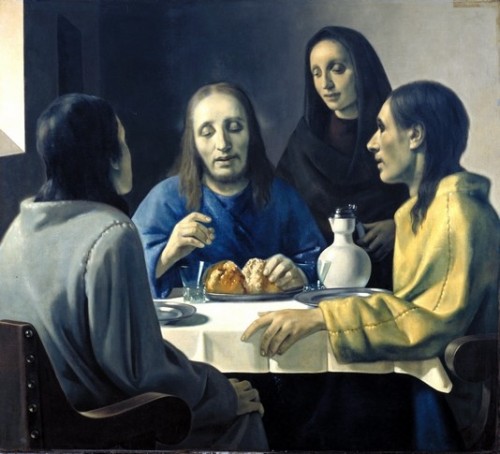 At the end of the Second World War another painting from the Netherlands, 'Christ with the woman taken in adultery' was found in the collection of the Nazi minister, Hermann Goering. Ironically, according to a contemporary account, when Goering was informed that his "Vermeer" was actually a forgery, "[Goering] looked as if for the first time he had discovered there was evil in the world"!  The painting was traced back to Han van Meegeren, who was immediately arrested on suspicion of collaboration. Van Meegeren admitted to having sold the work, but also claimed to have produced the painting himself. He had sold Goering a forgery. Van Meegeren's confession became worldwide news and he was hailed as a hero as 'the man who swindled Goering'. Meanwhile the art world was thrown into disarray. Van Meegeren demonstrated his forgery techniques to an expert panel and during his trial, on 12 November 1947, his forgeries were hung in the courtroom.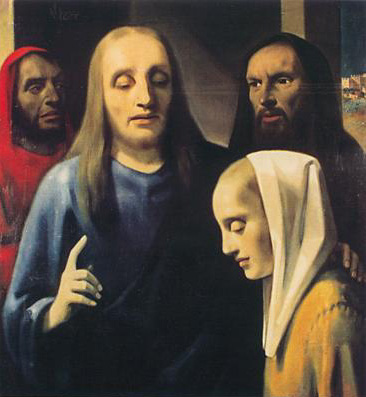 Cheering fans greeted van Meegeren when he emerged from the court. He was sentenced to a year in prison and forfeiture of his wealth (except for a sizable chunk that he had settled on his wife by the legal stratagem of divorcing her). He died two months later, probably of heart failure.  He was fifty-eight years old.  As Lopez quotes,"To give him his due, he was indeed a truly brilliant fraud." On balance however, he was a professional forger, and as such, accumulated at least $25 million dollars worth of assets from his deception, and was a known, long-standing fascist sympathizer.
Art forgery is among the least despised of crimes, except of course, by its victims; most people feel an innocent pleasure in seeing the experts sent up. Art is unique among universally esteemed creative fields in its aloofness from a public audience. Faith in authorship matters. When the named artist is familiar, we may get suspicious. But we can never be certain in every case that someone isn't  trading on gullibility, reputation, or a plain 'can't be bothered' attitude.
Nonetheless,Van Meegeren's technique remains exceptional. For his masterpiece 'The Supper at Emmaus', Van Meegeren used a genuine seventeenth-century canvas and historical pigments. He bound the pigments with bakelite, which hardened when heated to produce a surface very similar to that of a seventeenth-century painting. This technique, combined with Van Meegeren's choice of subject matter and composition, was an important factor in convincing so many people of the authenticity of his works.
Van Meegeren created the missing link between Vermeer's early and late works. The leading expert of the time, Abraham Bredius, was looking for just such a picture, linking the early religious works of Vermeer with his mature work. The result, in hindsight, was a feeble link, but Bredius was delighted. His theory of Vermeer's development appeared justified. As with so many forgeries, whatever the motive, it was a classic case of satisfying an existing wish.
Thanks to: www.artknowledgenews.com
The Case of Han van Meegeren ~ the Boldest Modern Forger of Old Masters