From stable to table…or, only fools eat horses?
Pure coincidence, but two recent posts concerned Black Beauty and Crazy Horse .. Enjoyable though all the jokes have been, this has been the week many British people may be re-assessing their relationship with meat.  I include here Barry Gormley's (condensed) take on the dilemma:
"The vital question concerns how the quality of food is ensured in Ireland and Britain. In a recent investigation it was found that several big-name franchises in Ireland and the UK had been selling burgers which contained traces of horse and pig DNA. The shops involved were Tesco, Iceland, Dunnes Stores, Lidl and Aldi.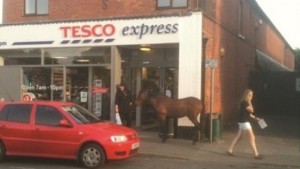 The items came from three major processing plants – Liffy Meats and Silvercrest Foods in Ireland, and Dalepack Hambleton plant in England. Of the 27 burgers analysed, a surprising 22 were found to contain traces of pig, while 10 contained horse. One sample from Tesco revealed 29% of horse, while 21 other beef products had pig DNA…
Continue reading Horse meat in supermarket burgers- why the long faces?