Cromarty today is a quiet little town on the Black Isle, North-east Scotland. At the dawn of the nineteenth century, however, it was an important fishing centre, and an important trade supplying the needs of visiting shipping sheltering in the firth nearby, brought relative prosperity.
Born on 10 October 1802, as a boy, Hugh loved the rocky shores and wooded hills of the Black Isle, which he explored, sometimes alone or with friends, sometimes with his uncles, who taught him to appreciate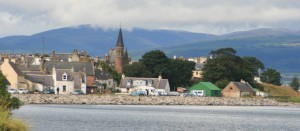 the teeming wildlife of sea, shore and countryside. At nightfall, by the glow of a cottage fire, he was entranced by the tales the old folk could tell, as they passed the long winter evenings.
His father having died at sea when he was five, he developed a certain self-reliance, and so, despite his uncle's offer to fund a college place, at seventeen he decided to become a stonemason. He knew the trade was hard, but also that the slack winter months would allow him to study natural history and literature, his true vocation. For the next fifteen years, he travelled all over the north of Scotland, quarrying, stone-cutting and building. During this time, as he laboured, he made many of the geological observations familiar in his writings. The Old Red Sandstone, until then little known to fossil collectors or geologists, became his particular interest. Continue reading Hugh Miller, The Cromarty Stonemason 1802- 1856