What an artist creates and how he goes about it , in what choice of subject or medium, is not only his own business but his alone to judge.
Max Beckmann (1884- 1950) rejected abstract or non-representational painting, unlike so many of his contemporaries, and instead, he took up and advanced the tradition of figurative painting. 'I hardly need to abstract things, for each object is unreal enough already, so unreal that I can only make it real by means of painting.'
Max Beckmann greatly admired Cézanne, but also Van Gogh, Blake, Rembrandt, Rubens and the Northern European artists of the late Middle Ages and early Renaissance such as Bosch, or Bruegel. His style and method of composition are also rooted in the imagery of medieval stained glass.
Encompassing portraiture, landscape, still life, mythology and the fantastic, his work created a very personal, authentic version of modernism. Beckmann re-invented the triptych, and utilized this compositional form of medieval painting as a looking glass of contemporary humanity.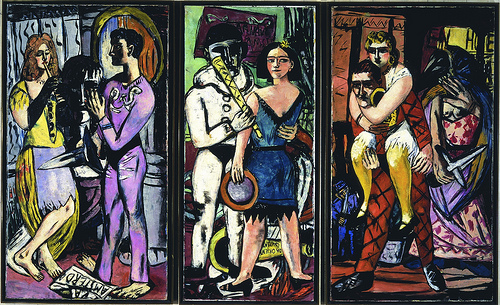 From his beginnings as an artist until after World War II, Beckmann's work reflects an era of radical change in both art and history. Many of Max Beckmann's paintings express the agonies of Europe in the first half of the 20th century. Some of his imagery refers to the decadent glamour of the Weimar Republic's cabaret culture, but from the 1930s on, his works often contain mythologized references to the brutalities of the Nazis. Persecuted by the Nazis, he was forced to flee his homeland and work in relative isolation while the war turned Europe upside down. Beyond these immediate concerns, his subjects and symbols assume a larger meaning, voicing universal themes of terror, redemption, and the mysteries of eternity and fate.
Beckmann said "Height, width and depth are the three phenomena which I must transfer into one plane to form the abstract surface of the picture, and thus to protect myself from the infinity of space.. If the canvas is filled only with a two-dimensional conception of space we shall have applied art, or ornament. Certainly this may give us pleasure, though I myself find it boring as it does not give me enough visual sensation. To transform three into two dimensions is for me an experience full of magic, in which I glimpse for a moment that fourth dimension which my whole being is seeking."