Rating:





Music From Another Room [DVD] [1998]
'Music from another room' is a 1998 romantic comedy dependent on fate to drive the main storyline, the pretty predictable one of no-hope underdog Danny (Jude Law) trying to win
the hand of already engaged Anna (Gretchen Mol). As a brown eyed five year old, he helped deliver her, and decided he would marry her. Twenty five years later, blue eyed Danny heads in the right direction by returning to his hometown, to move in with girlfriend Sarah. As he arrives, she is moving out, clearly intending to be gone before he gets there. Danny: 'I thought you loved me.' Sarah: 'Really? What made you think that?' Danny: 'Probably when you said you loved me.'  Sarah: 'You take things too literally..' Probably as well to walk away, Danny.
At least he is in the right town. Soon, by accident, Danny meets Anna, attractive, unavailable, but far worse, cool, highly strung, and seeing herself as the emotional caretaker of the family. Danny is not deterred, even as he finds himself entangled with each of the eccentric Swann family members including the blind and sheltered Nina (Jennifer Tilly), the cynical feminist sister Karen (Martha Plimpton), bullying brother Billy (Jeremy Piven) and neurotic wife Irene (Jane Adams), eccentric academic father Richard (Bruce Jarchow), and mother Grace (Brenda Blethyn). For Grace's personality, think Jane Austen's Mrs Bennet.
Will Danny foul up Anna's 'perfect little life'? In order to get close to the family, Danny offers to read the novel 'Anna Karenina' to Nina.  Since little or no chemistry was visible between Danny and Anna, we are asked to believe that fate will bring them together despite the odds, and the wealthy, dull, and disinterested fiancé Eric (Jon Tenney). Personally, I thought Danny's best lines involved him. To illustrate: a late scene after Danny had conspired to spend the night with Anna, had Danny asking, ' Have you told him yet? What did he say?' Anna: 'He said: It is already forgotten'. You could only think, Get out now! This was the only point I felt involved with them.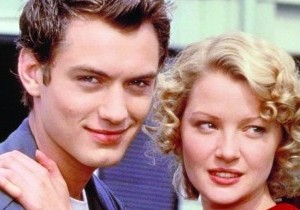 Another somewhat unbelievable scene was between Danny and Eric in the bookshop, again, fate dictated that Anna was listening, unseen. Here were Danny's best lines though, as he compared their respective communication styles. Danny: 'You know what I like about you? The way you deliver what you want to say. In one line, like a shotgun. Bang! Right on target. Not like me, scattering bird shot, hoping something hits..! Not like me, at all.'
Where the film comes alive, however, is through the performance of the wonderful Jennifer Tilly. As Nina, she is surprisingly subtle and it's her character that we're interested in, and her transformation that ultimately wins our hearts. Her love match with Latino dancer Jesus (Vincent Laresca) is the genuine one in this story. Come to think of it, it is a pity they didn't cut Danny and Anna out of the film, and concentrated on Nina and Jesus. There would have been more time to develop the other characters as well!
Nina actually does have one of the best scenes when she tells Anna: 'I've been scared my whole life, it's only now that I'm in love I'm not scared'. Even as the film is drawing to a close, she has to convince Anna to follow Danny, who at the final hurdle, had appeared to have given up, and in so doing, Nina reminded Anna it was she who was hiding behind the rest of the family, 'we don't need you', a case of being cruel to be kind.
All in all, the film is mostly harmless, has its humorous moments, but I don't rate fate in a love story. Although there is 'Serendipity'…