Rating:





The Boys Are Back [DVD] [2009]
Based on a true story, Clive Owen stars as a successful Australian sportswriter cast into the role of single parent to six year old Artie after the tragic death of wife Katy. He had another son, teenage Harry, by a previous marriage, living in England. How does a widowed man, cope with a job and running the house? For me, the story was really about how a husband and father, and a child and son, and equally apparent in them both, dealt with their grief, and coping without wife and mum for all the ordinary things we all take too much for granted.
Resolving to reach out to Artie, he comes up with his own style of parenting, 'just say yes', no rules, no chores..
Director Scott Hicks, a native of South Australia, lends the setting for 'The Boys are back' an authentic touch that slips a little when the action later switches to England. In fairness, Joe and Artie were only there to make up with Harry.
George McKay played the part of the disaffected, estranged Harry well. In the circumstances, how was the trip to Australia likely to turn out? Was Joe set up by his ex? The misunderstandings were going to happen. It was a feel-good moment in the film when Harry decided to leave the security of England for the anarchy of Oz, but often, these types of family misunderstandings can take years to resolve. We cannot all hop on a plane, especially when our job is on the line!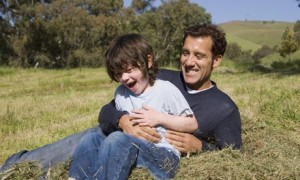 Talking of which, the story nicely illustrated a fundamental flaw in our society, the way our jobs, taken on with the good of the family in mind, well paid or not, always appear to conflict with family life, for Joe, this was true even before Katy died, didn't she greet him at the beginning as 'the long lost father'? Wasn't his excuse to Harry, 'I thought a child should be with his mother'?
As for the 'no rules' style of parenting, sadly, we can no longer call it revolutionary. Laura had it summed up: a child needs more. It fails to produce happy kids or happy parents. As a symptom of Joe's grief, though, it was understandable, as normal life seemed to slip away. Returning to the central theme of dealing with that grief, Joe and Artie both displayed the open anger and frustration, and the tension just below the surface, but at other times they both dealt with feelings of guilt and denial, and eventually they started to come to terms with reaching out to each other without fighting.
It was never going to be easy for Joe to look for romance, was it likely to be easy replacing Katy, and was that the idea anyway? Clearly, Artie came first, but to include Harry as well was great. Joe deserved romance later.