Rating:





The High Window: A Philip Marlowe Mystery by Raymond Chandler
`A long-limbed languorous type of showgirl blonde lay at her ease in one of the chairs, with her feet raised on a padded rest and a tall misted glass at her elbow, near a silver ice bucket and a Scotch bottle. She looked at us lazily as we came over the grass. From thirty feet away she looked like a lot of class. From ten feet away she looked like something made up to be seen from thirty feet away'..
The plot of 'The High Window' maybe doesn't matter. What matters is the writing and how good it is. Chandler's characters are corrupt for more than one reason, and Marlowe finds out what some of those reasons are. Chandler provides a tense mystery with a strong element of menace and personal danger, all in the author's trademark concise and witty style. The dialogue between Marlowe and the somewhat abrasive Mrs Murdock, in particular, makes the pages seem alive with bite and tension and it becomes clear she is the first in a line of characters trying to hide something from Marlowe, even while demanding his assistance. He's less interested in finding out who stole the rare coin and who committed murder to cover it up, than why Mrs Murdock called him in the first place, and then why she is a widow. 'The High Window' is written by Raymond Chandler, and he was one of the best writers ever to use modern American English. Few authors have written sentences as clear and descriptive as his. If  'imitation is the best form of flattery' he has been amply flattered..
Marlowe provides a counterpoint to his bleak world through dedication and adherence to a personal moral compass- upon which he doesn't spend much of time reflecting. Marlowe reveals himself as something of a humanist who believes that people, regardless of money or social station, have a right to the truth.  Marlowe chooses to be a private detective so that he is bound only to his conscience and the truth. He's not a tough guy, but he talks tough when he needs to. He is a private detective, and he is not bad at what he does because he is dedicated to the pursuit of truth, even when that pursuit takes him to the edge of the law and against the wishes of his clients. It's not that he's curious; he just can't help himself.
'The High Window' stands as another solid and evocative work that confirms Chandler's skill not only in the genre but also as a talented author capable of handling complex characters, a fast-paced plot, and an undated setting that truly feels inhabited by the characters. This novel is well worth reading if only to experience writing where the author has a clear vision and command of his craft.
Originally, Chandler envisioned the book as "The Brasher Doubloon", named for the rare and valuable coin of the same name which appears to have been stolen from its owner, perhaps by a wayward family member. Philip Marlowe is hired to track down the culprit.
Plagued by anxiety and alcoholism, subtly mirrored by Marlowe, Chandler was deeply depressed when he began work on The High Window. He wrote to his publishers, Blanche and Alfred Knopf, in March of 1942:
"I'm afraid the book is not going to be any good to you. No action, no likeable characters, no nothing. The detective does nothing… The thing that rather gets me down is that when I write something that is tough and fast and full of mayhem, I get panned for being tough and fast and full of mayhem, and then when I try to tone down a bit and develop the mental and emotional side of a situation, I get panned for leaving out what I was panned for putting in the first time… From now on, if I make mistakes, as no doubt I shall, they will not be made in a futile attempt to avoid making mistakes".
The High Window was very much typical of the beginning of Chandler's career. Shortly after the book's publication in 1942, he was approached to work on the screenplay for a Billy Wilder movie, Double Indemnity – based on a James M. Cain story – which in turn led to writing credits on The Blue Dahlia and Alfred Hitchcock's Strangers on a Train. Chandler was no fan of Cain's, but nonetheless, Cain's novel brought Chandler financial and commercial success, and – even better – it pointed Hollywood in his direction.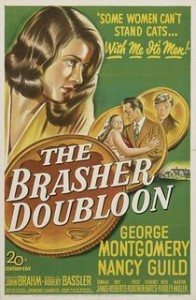 By 1946, Bogart and Bacall brought Philip Marlowe to life in the film adaptation of The Big Sleep, and soon there were more Marlowes than you can shake a stick at, including 1947′s "The Brasher Doubloon", which used the plot of The High Window alongside Chandler's original title.
But what sticks with you after you finish Chandler's third novel is not the tight plot or the acid-sharp similes. It is the wry tone of a writer who is having a good time with his genre, to the extent that he can poke fun at the ridiculous world of PIs, film noir, and Angeleno gangsters that he had helped to create. One character is "the fellow for whom they coined the term 'ignorant as an actor'." And there are more self-aware nods peppered throughout the book.
Later, Marlowe even references dialogue that his soon-to-be Hollywood counterpart Humphrey Bogart uttered in Casablanca: "Skip it. I know it. Marlowe knows everything—except how to make a decent living. It doesn't amount to beans." Reading Chandler's letters and articles, it's difficult not to think that he considered movies an indecent living.
The High Window isn't Chandler's  best work. Nor is it his worst. But it is a book that is a lot of fun, and one that includes a mystery that runs logically from A to B. In that way, if in no other, it was as close to a classic detective story as Raymond Chandler would ever get.
The number of actors that have portrayed Chandler's sardonic private detective, Philip Marlowe reads like a Who's Who of Radio, Television and Film. At one time or another, the following actors have 'walked the mean streets' in Marlowe's shoes (in no particular order):
Humphrey Bogart
Richard Powell
Van Heflin
George Montgomery
Robert Montgomery
Robert Mitchum
Gerald Mohr
William Conrad
James Garner
Michael Gambon
James Caan
Elliott Gould
Philip Carey
Powers Boothe
Danny Glover
Clive Owen
That's quite a list. By the same token, Philip Marlowe was an extraordinary private eye. That the list contains no less than eight award-winning actors speaks volumes about the durability of Philip Marlowe's various personae in three major media arts. So what was it about Chandler's everyman sleuth that drew so many noted talents to portray him?
Radio, even by 1947, was still wary of the blood and guts violence of noir fiction. And yet, despite Chandler's caustic, often cynical view of a private detective's life, Hollywood took to Chandler's most memorable character with a passion. And Philip Marlowe had much to recommend him in his various guises. He was both worldly wise and cynical to be sure, but he was also relentlessly optimisitic. Marlowe's life takes him through the darkest heart of Depression-era Los Angeles. He regularly witnesses the underbelly of the American Dream, and takes a drink in response. But on film, above all, Marlowe was the kind of detective that would never let his clients, or his environs, ever truly defeat him.
Philip Marlowe was no stranger to Radio, having been portrayed in several Radio adaptations of the three successful Philip Marlowe films of the era, Murder My Sweet, Lady in The Lake and The Brasher Doubloon. Even more significantly, Chandler-like characters kept cropping up in numerous detective genre programmes of the era. Indeed, both Dashiell Hammett and Raymond Chandler exerted a great deal of influence over the detective and crime fiction of the era, and in that which followed. Hammett's The Fat Man, The Thin Man, and Sam Spade had already preceded The Adventures of Philip Marlowe by two years. Sam Spade, especially had clearly captured the imagination of Post-World War II audiences hungry for some escapism.
Raymond Chandler's Philip Marlowe has taken on a life of his own over the past seventy-five years. The character is as adaptable today as he was when Chandler first penned him. Sherlock Holmes, Charlie Chan, and Sam Spade are all somewhat locked into their respective chronological eras, but Philip Marlowe seems to have been the most successful of the Radio and Film detectives to adapt to any era. That's a tribute to Chandler, of course, but it's also a tribute to the notion of an 'everyman' detective that can take everything that's thrown at him, yet bounce back with that one beautiful dawn or that first Spring shower that seems to wash away all the dirt and grime, long enough, that is, to tackle just one  more case.