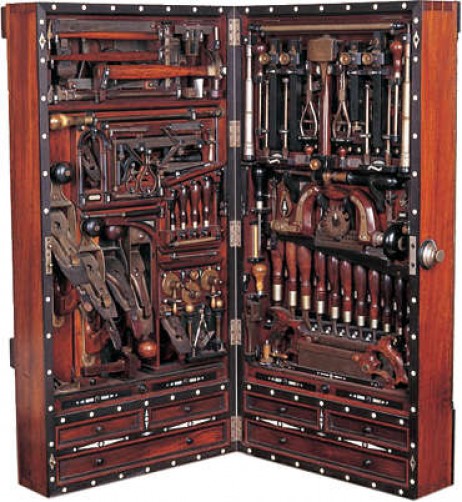 In July 1988, the back cover of Finewoodworking magazine featured an awe-inspiring object: the vintage 19-century tool chest of master carpenter Henry O. Studley(1838-1925) . If the workmanship in the tool chest is any indication of the maker's talent, then the craftsmanship of Studley must have been a wonder to behold.  Now Studley's chest has resurfaced as part of Lon Schleining's book, Treasure Chests: The Legacy of Extraordinary Boxes (2008)..
Massachusetts piano maker Henry Studley built his magnificent tool chest over the course of a 30-year career at the Poole Piano Company. The chest lived on the wall near his workbench, and he worked on it regularly, making changes and adding new tools as he acquired them. Using ebony, mother-of-pearl, ivory, rosewood, and mahogany — all materials used in the manufacture of pianos — he refined the chest to the point that now, some 75 years after his death, it remains in a class of its own.
Considering how many tools it holds, the famous chest is really quite small; when closed, it is just 9 in. deep, 39 in. high, and just more than a foot and a half wide. Yet it houses so many tools — some 300 — so densely packed that three strong men strain to lift it.
Packing more tools per square foot

than seems physically possible, piano maker Henry Studley's unrivaled tool chest also manages to be beautiful in the process. The chest stands as perhaps the most exquisite example of 19th-century tool-chest craftsmanship.
For every tool, Studley fashioned a holder to keep it in place and to showcase it. Miniature wrenches, handmade saws, and some still unidentified piano-making tools each have intricate inlaid holders. Tiny clasps rotate out of the way so a tool can be removed. In places the clearances are so tight that the tools nearly touch. The chest, which hangs on ledgers secured to a wall, folds closed like a book. And as the chest is closed, tools protruding from the left side nestle into spaces between tools on the right side. Amazingly, despite being so densely packed, the tools are all easily accessible.
Studley was well into his 80s before he retired from the piano company. Before he died in 1925, Studley gave the tool chest to a friend. That man's grandson, Peter Hardwick, loaned the chest to the Smithsonian in the late 1980s and later sold it to a private collector in the Midwest. The current owner loans the chest to the Smithsonian National Museum of American History in Washington, D.C. from time to time.
Assuming money was no object, could any tool chest available today hope to compete? The Swiss company Wohngeist ( www.wohngeist.ch/ )believe so. Their highly desirable tool chest is made to the customers specifications. Would you dare actually use these beautiful tools?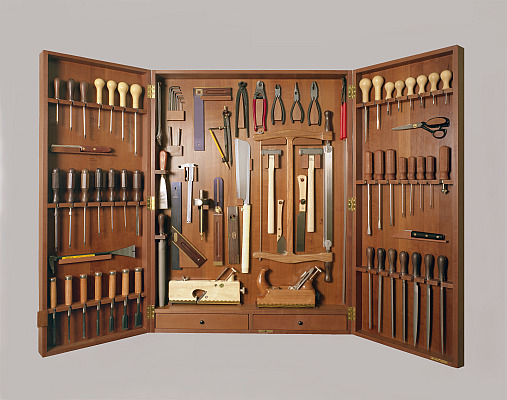 Thanks to:  Finewoodworking magazine